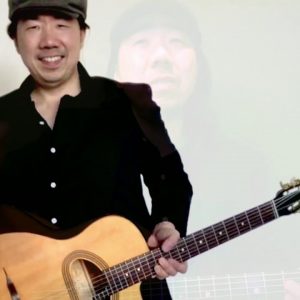 Live Music: Tracy Kim
Tracy Kim is best known as a gypsy swing guitar enthusiast and instructor. He currently performs as a soloist, but also in bands The 12th Avenue Hot Club, The Tracy Kim Swing Group and Kung Pao Chickens. The latter is considered to be Portland's premier "Django Band" and has maintained a weekly Monday night residency at the beloved Laurelthirst Pub for the last 14 years!
Tracy regularly writes, records, produces, and performs music with different artists and in various genres.   He also has 20+ years of teaching experience at colleges and privately.   In 2018, Tracy took his dream of teaching a step further and opened the Happy Valley School of Music in SE Portland, where he offers private and group music lessons for all styles and all ages ranging from guitar (acoustic and electric), piano, bass, ukulele, mandolin, drums, melodica, songwriting, composition, and theory. Tracy also conducts workshops in the style of Django Reinhardt, swing jazz, ukulele, songwriting, bossanova and sight reading.
Tracy has composed music for film (both feature and short), commercials, multi-media, and also modern dance.
You can usually find Tracy playing either his trusted twangy Fender Telecaster or his old Gibson archtop jazz guitar.